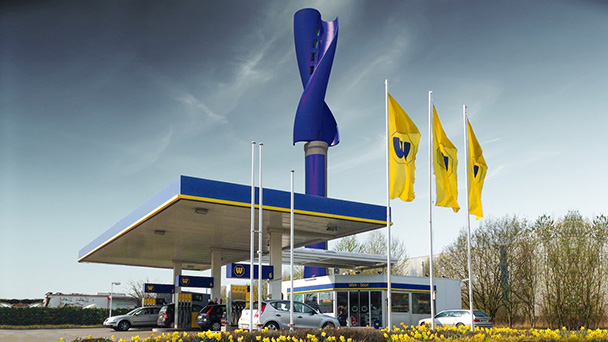 STORM's Wind & Solar Turbine
– STORM's has used the large surface area of the Helix wind turbine with its innovative solar cell system. This combination of sun and wind in one element can become a significant energy source of the future.
During the year, the conditions for solar and wind are never constant. With STORM's concept, energy production is always guaranteed. – Features: no noise – power generation during storm no shutdown – optical adjustment by colored solar cells, no bird threat.
ENERGY SOLAR WIND ROAD LANTERN
STORM's in cooperation with a traditional German "Wind Turbiner" has developed a "Solar-Wind" street lamp to illuminate roads and paths with multiple functions. In addition to the illumination of the street, seats are arranged around the mast on the ground. Above the seats an umbrella was placed around the mast, which is also covered with solar cells. Underneath the umbrella is a LED mass applied, which illuminates the seats at night if desired. On the mast charging sockets for mobile phone and laptop are attached, so that under the umbrella can also be worked.
Be Part of Our Community
STORM's will develop a solar wind gas station that will provide decentralized, autonomous supply anywhere in the world with power for e-vehicles. Furthermore, the Bluenergy Helix surface can be provided with advertising. This is also a contribution to the energy transition and can contribute to stopping climate change.

ENERGY GEO–ELECTRICITY Solution:


Geo-Electricity – in the earth is 50,000 times more renewable energy than all energy sources on Earth (n-tv) 24 hours of electricity in every location on Earth. 0,01-0,02 €/m2. Every 100 m a 10 MW plant results in one km2 100 geo-electric plants with a capacity of 1 GW corresponding to 2 nuclear power plants without uranium ect., without uranium waste, no dismantling of the plants ect. without exhaust and noise.

Thanks to our unrivalled expertise, we are drawn to complex, incredible projects that assemble infrastructures and systems all over the world. These projects need a strong presence and are developed with specific and complimentary skills. Client-focused and with exceptional capacities for interface management, the STORM's Group approaches these large projects with the help of different Groups | Partnerships depending on the project size. The STORM's Group insures the design, installation, operation and maintenance of the Power-systems integrated in the infrastructures by using their skilled project management capacities and immense mastery of these products...